Making a decision on whether buying or renting a tent can be difficult. However, there are several benefits to renting a tent versus buying one. Tent rentals have become more popular this year. A tent rental can reduce stress by taking away the responsibility of maintenance and installation. Tlapazola has created this information so you can considered both sides of buying a tent or going for a tent rental. Either way we can help with both.
Things to Consider When Tent Buying vs Tent Rental
Tent buying can take time it requires searching the best purchasing price, there are also several factors as a business owner you should consider. One of those factors is that tents are an investment. This type of investment will incur additional fees and cost besides the initial tent buying cost. If you are considering making the purchase consider these cost as well for long term tent ownership.
Tent Maintenance. Many business owners that have tents as outdoor dining for long periods of time, see tent buying as a long term solution, since they will need to have the tent up for a long time, business owners may think the initial cost is more economical. However, when you buy a tent for outdoor dinning or usage for long periods of time, it is important to consider that a tent will also require maintenance. Maintenance for tent's to consider are checking all post, joint connections, tie down, tarps and tent security. Tent weight holders need to be adjusted to ensure proper placement and safety. So if you are tent buying also include the cost of maintenance.
Tent must have a fire retardant tarp. For the safety of customers and users, a fire retardant tarp is a must. This is important during cold and windy weather when a business owner is considering using heaters. Many business owners look for the cheapest product and do not consider the type or quality of the tarp. Business owners should ensure the safety of its customers by purchasing a retardant tarp. Poor quality tarps can easily degrade with the strong rays of the sun. During the winter in Los Angeles It can be hot and sunny then cold and windy the same day. For the most part good quality tarps tend to add an additional cost, so business owners consider that when looking to buy a tent.
Get Professional Installation. Tents require professional installation, not hiring a professional installer can bring greater risk to the business owner if tents are not secured properly or proper advise is not provided. Tent buying provides two types of installation, business owners use their own staff to install the tent or hire a professional installer. Having your own staff set up large tents can increase the risk of injury to the employees and if not properly installed can increase the risk to injury customers.
Tlapazola can install tents professionally and Tlapazola ensures that the tent is properly installed and that it has enough and proper weight on it. If you like tent buying but want it installed professionally Tlapazola has the experience and trained individuals to help you set it up. Tlapazola also sells quality tents to ensure business owners are purchasing the best.
Benefits to Renting a Tent

If tent buying seems like a lot of work from searching for the right tent to installing and maintaining, then its better to rent a tent. Renting a tent may sound expensive, but after knowing what the real cost of ownership is the overall cost at the end can be less or similar to tent buying, plus renting is less stressful with Tlapazola. Tent buying is growing less popular and since there's similar cost to renting a tent, there are some additional benefits to consider as a business owner.
Professional Installation.

Whenever you rent a tent, the proper rental company will take care of the installation. A Rental company will ensure that it is safe, secured and properly weighted. Business owners are now considering rental companies to reduce the risk of improper installations. It is also important when you rent a tent to hire a well respected, insured and trusted company. You will see how a professional installation will make the difference.

Maintenance.

For tent rentals, rental companies are responsible for maintaining the tent during the entire rental period. Always talk to the rental company to ensure this is part of the tent rental, Tlapazola has this benefit included on its long term tent rentals, but not all companies may offer it. Tlapazola makes sure that the tent remains secure, inspects tie-down rackets, and also re-tie weights if necessary. Its great to rent a tent, but also ensure the proper rental company is used.

Removal and Storage.

When there is no longer a need for a tent, Tent buying will have produced extra waste or unused equipment that needs to be sold or stored. When you rent a tent, the rental period just comes to an end. There is nothing else a business owner needs to worry about. The rental company is responsible for removing the tent, cleaning-up, and store its equipment. Consider all the equipment required for a tent: poles, tarp, tie downs, 50-100lb cement weight blocks. Renting a tent is the best solution for business owners once the tent is no longer needed. Just continue to focus on your business and your customers.

Convenience.

For party equipment, it is more convenient to rent items out if you do not plan on using that equipment on a daily basis. Whenever you rent a tent, you have the option to choose on sizing. You can easily increase its size or reduce it after the rental if its needed. You do not have to worry about the installation, maintenance, or removal.
Tlapazola Tent Rentals!
Tzlapazola specializes in party equipment rentals. Tlapazola is also focused in helping business owners specially restaurants that are now in need of outdoor dinning to help continue to stay in business. Tlapazola offers the possibility to rent a tent or if you are still interested in tent buying we can also do that. Tlapazola has several different sized tents for all kinds of occasions and locations. Tlapazola Party Rentals in Gardena is committed to providing the best services in the south bay area. Give us a call or send us a message and we will help provide knowledge, price or advise to business owners in need of renting or buying a tent.
Canopy and Tent Rental Usage
This is perfect for farmers markets, outdoor expo events, and other events where you want something that is easy to set up and portable.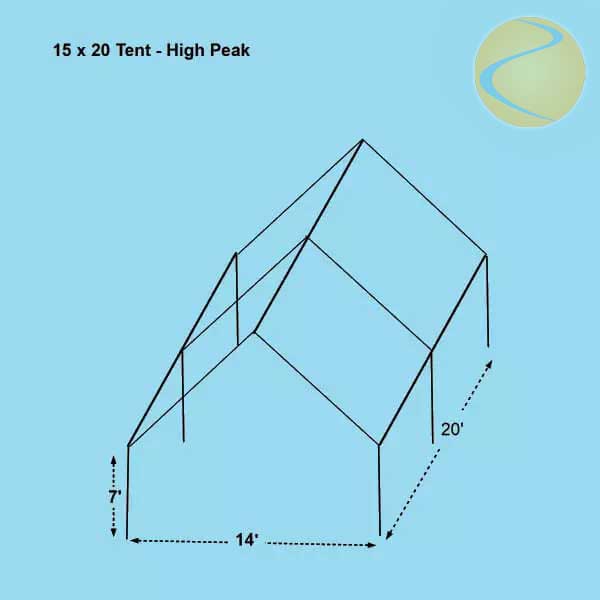 15 x 20 Tent. This tent is good for backyard events, commercial business events, or any occasion where you want to set up a couple long tables.
This is a 30 x 60 Tent. This tent is for big-crowd occasions such as weddings, sporting events, or any
outdoor events
with a lot of guess.
For the bigger tents, such as a 15 x 20 or a 30 x 60, this is where renting a tent is much more beneficial than buying a tent. If you rent one of our tents, we will take care of the weights that are required for the tents, we will deliver the equipment to the location and set up the tent, as well as pick up and remove the tent when your event is over.