The Party Rental Company You Can Rely On
At Tlapazola Party Rental in Los Angeles county, we value transparency and communication for all rental prices and fees. Many items might feature additional costs or fees due to the customization of each party's event set-up. All prices shown in checkout are base prices for event rental equipment. For special requests, please contact a party planner today for a custom order.
Event Equipment Rental Delivery Services
For Tlapazola Party Rentals, event equipment deliveries are dropped off at the events curbside the day before or the day of the event. Deliveries are normally picked up the day after the event during regular business hours. Final payment for rentals is taken 3-4 days before the delivery date, and changes or special requests beyond these terms may result in additional fees.
Standard Delivery Fee: Delivery occurs during business hours from 8am – 5pm. Standard Delivery is calculated from our store location in Gardena 1545 W 134th Street, Unit D to the location of the event. Standard delivery starts at $100 for the first 3 miles and each additional mile is $10.00 rounded up to the whole mile.
Same-Day Pick-up Fee: Customers who would like a same-day pick-up on the day of the event between 6pm – 12am will have a pick-up fee applied. The Fee is Calculated by multiplying the delivery fee by 2.
Minimum Security Deposit Fee: A security deposit is required for all  event equipment rentals. The minimum security deposit is 30% of the rental price and is required for booking and the scheduling. This fee is non-refundable if the event or booking is canceled.
Tlapazola Party Rentals – Event Equipment Set Up and Break Down Service
Many Tlapazola Party Rentals customers choose to add set-up or break-down services to further simplify their events. Many larger items (Such as our tents, stages, and dance floors) include this fee within their rental price as event set-up is the most convenient way to host an event.
Tent Set-Up: Listed price includes $10 per concrete weight, a requirement to secure installation of the tents.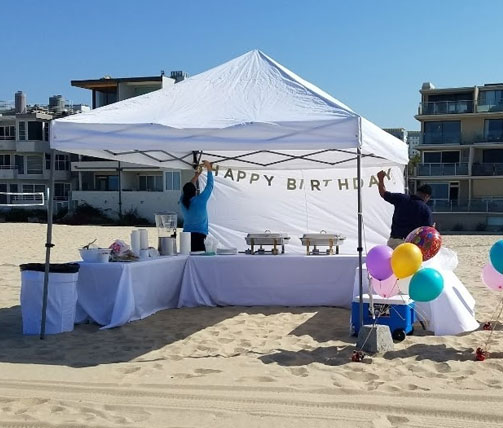 Beach/Waterfront Set-Up: Beach or waterfront set-ups include an additional fee of 35% of the rental total. This covers the cost of parking, loading, unloading, as well as proper set-up requirements for these locations.
Elevator Convenience Fee: If set-up or delivery is required on a floor with no elevator access, there is an additional fee applied. Please inform our planners of the need for stairs upon the start of service to get an accurate quote for service. If our planners arrive and the elevator is out of service, Tlapazola will contact you with options, including our 35% no-elevator fee (based on rental invoice total).
Sales Tax: Only applies for sale items, not party or event rental equipment.
Have a question about party rentals in Los Angeles County? Call to speak to a Tlapazola Party Rentals planner today!